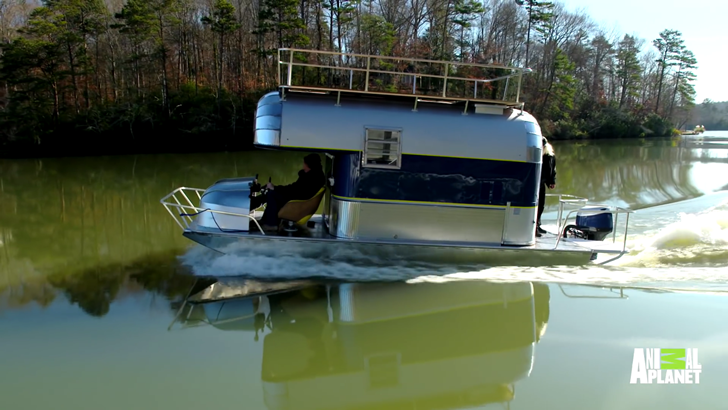 Did someone say 'boaterhome'? What does that even mean? It's like a houseboat, but instead of a house structure, its a motorhome structure used as the basis, and floated on pontoons like any other houseboat. Kind of a neat idea, especially if you have access to the DIY materials to make one.
This one was featured on Animal Planet's "Flipping Ships" show. They actually took an old camper — really a pretty old, worn out one that was sitting on a lot, and transformed it into this shiny, eyecatching RV on water unit. The people who built it had camping and being on the water in mind, two things they really enjoy.
It's kind of funny, it seems, to see a camper driving around on a lake. It's pretty much a one-of-a-kind, although we did find one other old unit that is somewhat similar, but maybe a little larger (it's in the gallery of images).
Check out the gallery of photos below (all images on our site are expandable, even the featured image at the top).
Find more from other houseboat builders we've indexed in our Home Designers and Builders Directory. You can search the company's name and look builders near your area. And to see more houseboats,click here.