This is a small house structure with a barn home basis. It's a "Gambrel Home" from Amish Buildings. A lot of people are looking at these small houses, and alternative buildings styles in general. For some its the cost, for some its the rustic look they're looking for.
And if you end up building another house, you can use a barn house as a barn later, or storage, or a guest house, or ship it out for someone else to buy as a house. And who's to say you can't update the building a bit later with a bathroom, or a sink and fridge, or add a second unit onto it?
Gambrel Building Heights
12'W = 14'H
14'W = 14'6″H
16'W = 15′ 3″H
DELUXE GAMBREL CABIN FEATURES
8′ Sidewalls

2 x 4 Wall Framing, 16″ on center

2 x 4 Rafters, 16″ on center

CDX Plywood Roof Sheathing

25-Year Fiberglass Shingles

15# Felt Paper

Continuous Ridge Vent and Soffit Ventilation System

Aluminum Drip Edge

2 x 8 Tongue & Groove Treated Flooring

36″ 9-lite Steel Entry Door
Lockset for Entry Door

1 x 4 Cedar Trim (on Premier and Deluxe)

1 x 6 Cedar Fascia Board (on Premier and Deluxe)

Porch with Cedar Posts
Check out the gallery of photos below (all images on our site are expandable, even the featured image at the top).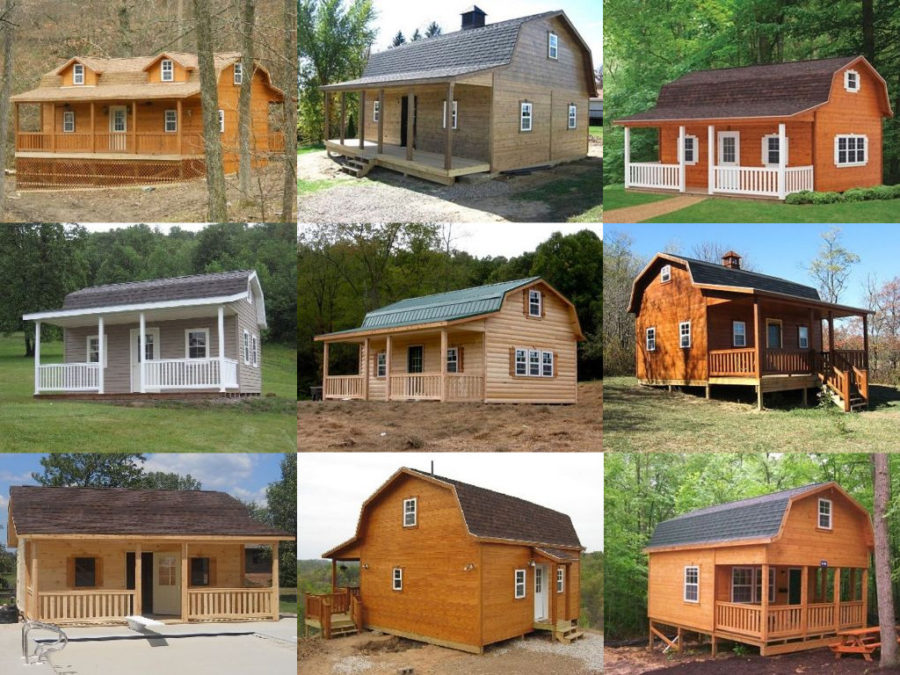 Find more from Amish Buildings, and other cabin builders we've indexed in our Home Designers and Builders Directory. You can search the company's name and look builders near your area. And to see more cabin, click here.