The Helm tiny house design will change the way you think about shipping container homes. The 2 story shipping container home is located in Waco, Texas, United States, and can accommodate up to 6 guests with 2 bedrooms, 2 beds, and 2 bathrooms. You can step from the upstairs suite to the well-lit rooftop patio for an evening cocktail. The fusion of the two steel shipping containers, 20 feet and 40 feet, the interior of this unique shipping container home is insulated and paneled in pine shiplap and trimmed in 100plus-year-old barn wood.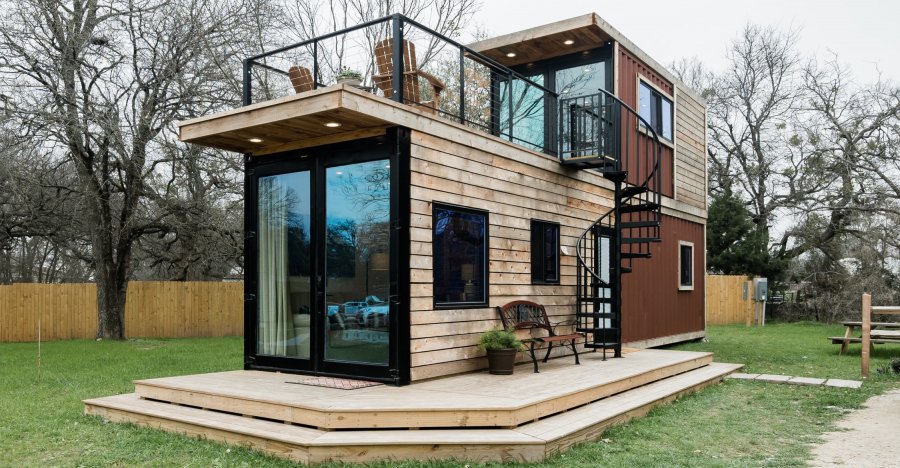 The shipping container home is in a safe rural neighborhood, just north of Waco, Texas and close to I-35. The shipping container home is surrounded by trees, with cattle grazing nearby. Guests to the shipping container home are also welcome to use the lawn. You can shop and eat at the Homestead Cafe and Craft Village, which is only 3 minutes away by road. The distance from Waco Regional Airport is only 12 mins by car without traffic. This shipping container home is an inspiring build. The shiplap in the interior gives it a nice cozy look, with comfy furnishings and plenty of windows to let in the natural light. The reclaimed wood gives this shipping container room some character and a nice farmhouse look and feel.
A growing trend these days is to use reclaimed barn wood for new home designs and construction projects and is something that is becoming more and more popular. Private contractors have begun renovating home designs and public spaces with wood that has been reclaimed from old barns, houses, factories, and commercial buildings, across North America. Whether you are building a new shipping container home or wood cabin, reclaimed wood can add the character that you want.
Working with reclaimed wood is popular in both rustic wood cabins and modern tiny house designs. You might choose to use a barn wood accent wall in a room in your shipping container home or use reclaimed for the beams. Reclaimed wood comes in a range of shapes and sizes and a variety of places. There is nothing that can compare to an authentic piece of reclaimed wood, it has a unique story to tell and a look all its own.
Regardless of the source of your reclaimed wood you choose to use in your tiny house designs, there are a few tips for using this type of wood. If you use reclaimed barn wood, it may have been in the elements for a 100 years or more. The reclaimed wood may be covered in dirt, dead bugs, amongst other things. Because of this, you will need to clean it. Start by using a stiff nylon bristle brush and give the wood a brisk rub down. This will help get rid of any loose dirt. Follow this up with a quick spray with an air hose to clean off the finer particles of dirt. Some people like to clean the reclaimed wood with a high-pressure water sprayer, but you have to be careful, or you may risk damaging the wood.