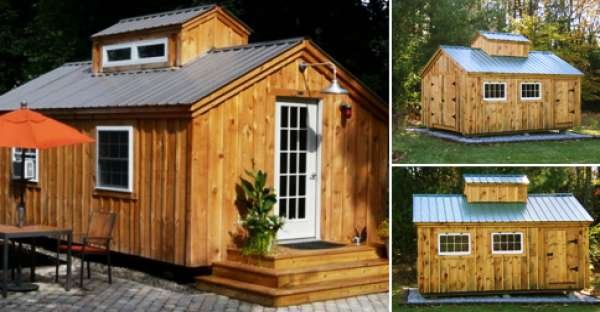 You've probably heard the song "Sugar Shack" by Jimmy Gilmer and the Fireballs, right? But do you know what an actual sugar shack is? Originally used to refine maple sap into pure maple syrup, sugar shacks were once a very common sight in Eastern Canada and New England. And now you can have your very own sugar shack – as a unique cabin, work space, or as a fully-functional sugar shack of your own!
This sugar shack comes from The Jamaica Cottage Shop, where you can purchase it – and many others like it, depending on what your preferences are. This particular design is based on the historical sugar shacks of New England in the eastern United States. Can you believe these shacks are still used to make maple sugar to this very day? You can buy the sugar shack design as a purely ornamental one – meaning that you cannot actually make maple sugar in it – or, you can request an actual "working" sugar shack design that includes a "venting cupola" – this means the sides actually open up so all of the steam from the boiling maple syrup can be expelled from inside. Ever considered starting your own maple syrup business? As it only costs an extra $200 to upgrade to the working sugar shack, maybe now is the time to start!
But even if you don't want to turn maple sap into maple sugar, you can use this wonderful cabin for a whole variety of different things. It would make a beautiful cottage, tiny house, garden shed, work space, art studio, writer's nook, student's study, weekend getaway, romantic hideaway, or how about a honeymoon suite that you can rent out? Sweet! There are just so many things you can do with this cute little sugar shack.
Sugar shacks are also called sugar houses, sugar shanties, sugar cabins, and even sap houses – but we like "sugar shack" best! Back in the day, they were a very common sight in Atlantic Canada, Ontario, and Quebec, where sugar maples are common and winters are very cold. When the trees begin to thaw in the spring time, sugar maples produce a sweet form of sap which is tapped from the trees and collected in shiny tin buckets. The sap is later transformed into maple syrup, and once we have maple syrup, there is a vast array of maple products that we can lovingly make from it – including maple sugar! Maple sugar is made by boiling maple syrup until it crystallizes. It is incredibly delicious and a wonderful treat – and it's halfways healthy, too. It's definitely one of Canada's finest signature delicacies! Another scrumptious item you can make from maple syrup is maple candy. Once again, the maple syrup is boiled and then it is poured in strips on the icy cold snow. The rapid change in temperature causes it to crystallize instantly, creating a very chewy toffee that tastes like nothing else in the world. Oh, the joys of growing up in Atlantic Canada…
Sugar shacks first started out in New France, or what is now known in Canada as Quebec, after Swiss and Normandy settlers first showed the locals how to make maple syrup. It became a traditional family business with fathers passing their sugar houses down to their sons for many generations. But these days, of course, the art of making maple syrup has become a lot more commercial with larger companies buying out the "ma and pop" ones. You can visit them in the winter months, often from October to early April – but the best time is in April when the sap is running and there's still snow on the ground. That's when you get to see them make maple candy and sample some. Once you taste it for the first time, you'll surely want a sugar shack of your own!