So you've always wanted to move into a tiny house, but you don't want to give up on any of life's luxuries? What if you didn't have to? Park Model Homes' "Tiny Mansion" is a gorgeous tiny house which was featured on Tiny House Hunters. It has everything you could possibly need to live in total comfort, and packs a surprising amount of space into a small profile. Let's check it out.

The exterior of the home has a simple contemporary appeal with neutral colors and white and brown trim.

Large windows bring in lots of light.

Those windows actually look even bigger from the inside than they do from the outside! In fact, the whole space really seems to open up when you step inside.
The large bay windows are a really clever touch. They literally extend the space in the living area while also drawing attention to the view outside.
In this shot, you also can appreciate the sizable island in the kitchen. How many tiny houses have you seen which have room for a feature like that?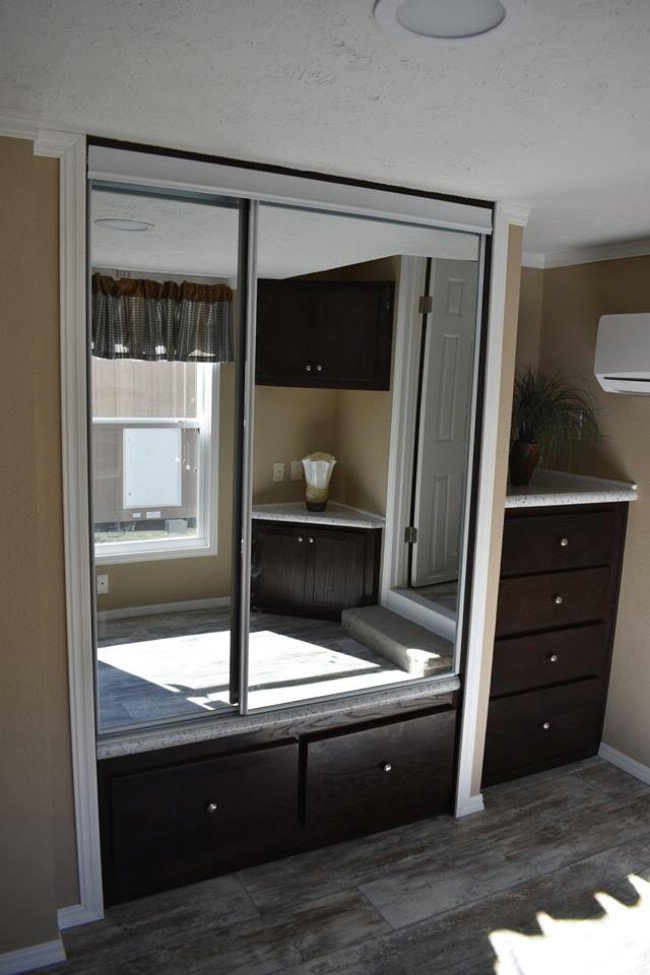 Mirrors are used in the home to provide even more of a sense of space.

The bathroom includes a full-size tub—also a rarity in tiny house construction. Most tiny houses only have room for a single cramped shower stall, but here you can really luxuriate!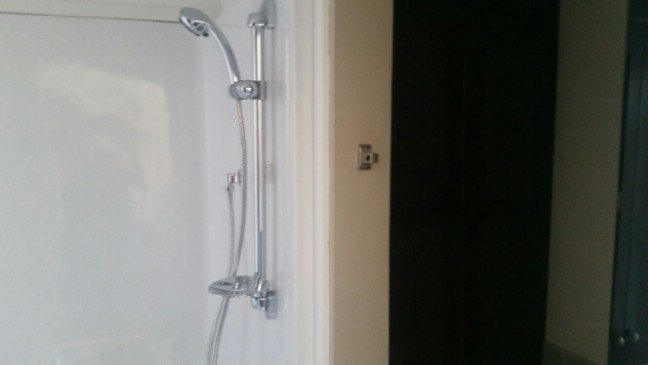 A removable shower head adds to the luxury.

The loft, like the living area, is incredibly airy and offers more room than seems possible in such a small abode.

This photo of the main living area shows you how the layout fits together, providing you with a view of the staircase leading up to the loft. With the high ceiling and roomy width of this house, there is no way you could ever feel cramped.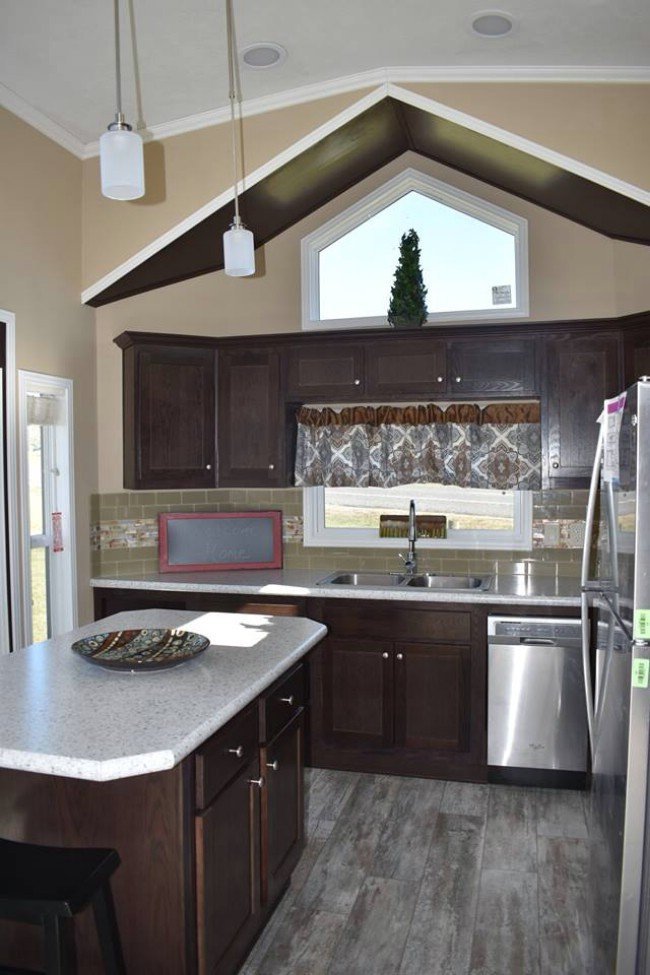 Of course you'll be wanting a closer look at the kitchen! As you can see, even if there was no island, there would be more than enough counter space to prepare even the most elaborate meals in the back. There is also a large sink, making it easy to do the dishes, and lots of cabinets for cutlery.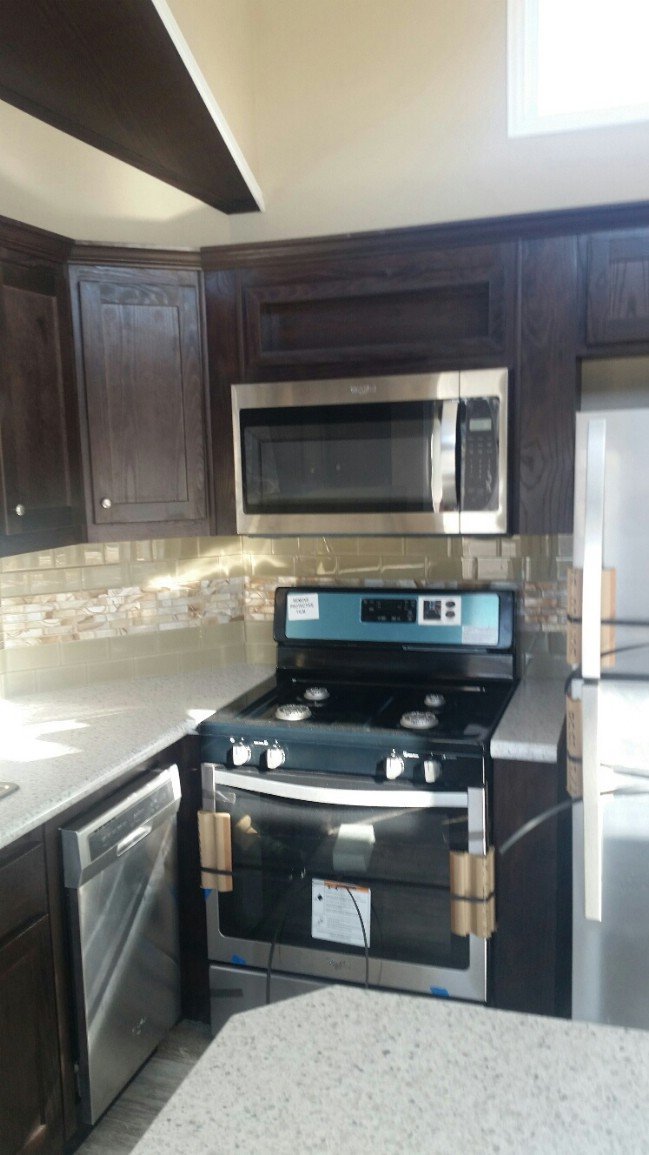 Both a stove and an oven are available in the kitchen, along with a fridge and freezer.

A ceiling fan circulates air, keeping the home cool during the hot months of summer and helping to conserve energy.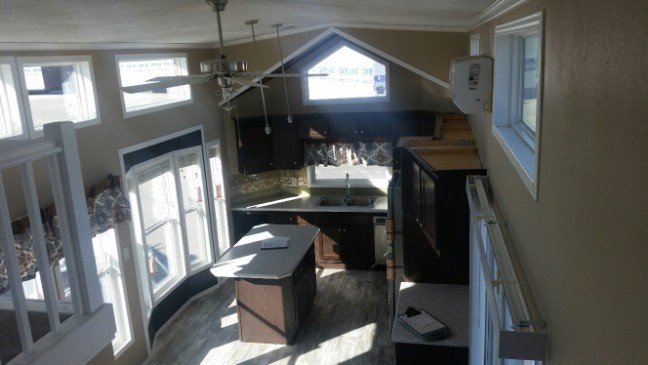 Loving the openness!
Here are a few more interior shots:
Such a gorgeous tiny house, inside and out! I so wish I could move in here right now!

All Park Model Homes can be fully customized to fit the needs of their buyers. Want an even better look at the Tiny Mansion? You can take a video tour below:

You also can visit Park Model Homes to check out the full catalog of beautiful tiny houses offered by this company. You also may contact owner Joey Nelson directly at 888.222.2699.