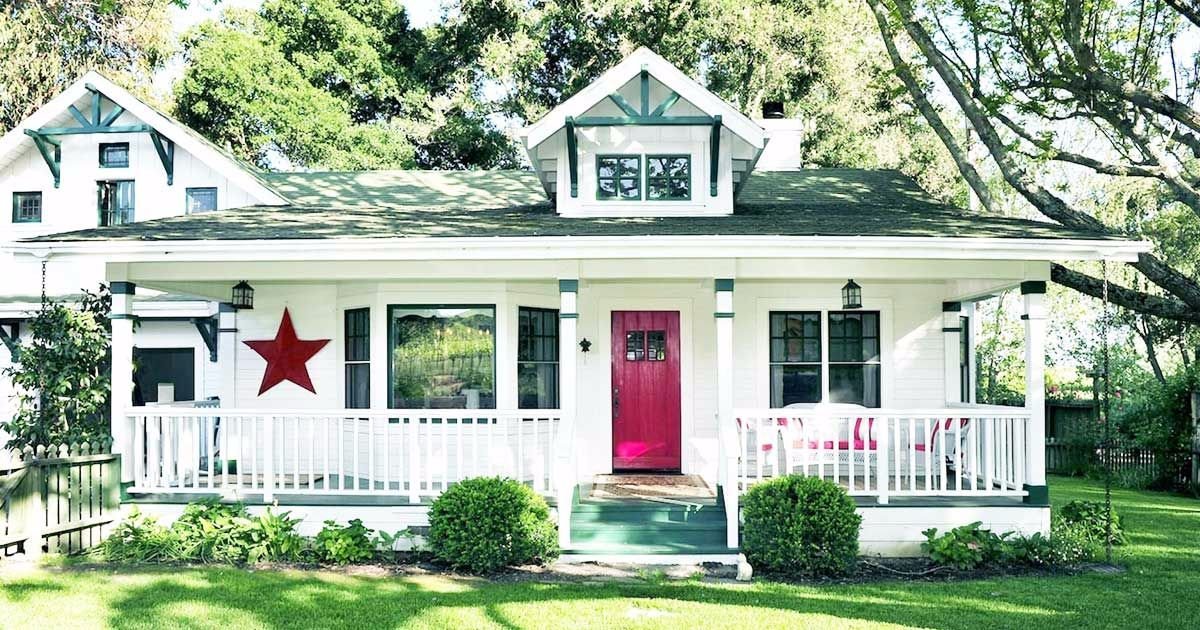 It looks like it's been plucked out of a New England-based Norman Rockwell painting, but this incredibly cozy and beautiful cottage is arguably in an even better location. You can actually find this home in California – nestled in the hills between Napa and Sonoma – both farm and vineyard air wafting across the front porch.
Inside, you'll be just as delighted. There's a big open living plan decorated in creamy neutrals with pretty pops of color. The ceiling is lofty and wooden, with white beams drawing your eyes up and across the room. There's also a roomy kitchen, a dreamy master suite, and a backyard you'll find hard to pry yourself away from.
Take the tour of this cozy California cottage and explore its beautiful design and amenities for yourself.
The first charming feature to greet you is this big front porch. We love how owners Candace and John have opted for a pop of color here and painted the floor this stunningly deep green. It's a unique feature we adore – especially against those red cushions.
There's no shortage of cozy corners to curl up in inside this living room. And besides boasting big comfy couches and chairs, the design of this room is eclectic, country, and fun. The rug has a tribal print, the painting pays homage to the nearby farms, and the mix-and-matched furniture is really shabby-chic.
From the living room, you can mosey on into the kitchen that's separated yet open to the rest of the space. We love how the builders have worked the home's natural beams into the space and used them to create this beautiful bar. It's a great place to enjoy a meal or chat with the cook during a dinner party.
The kitchen itself continues on with the cottage feel – boasting the old original (but refinished) cabinets. We love the shiplap wood backsplash, the stone countertops, and how big this room feels thanks to those beautiful vaulted ceilings.
Despite being on the small side, this cottage doesn't feel it at all. There's even room for a dining table by the bay window which will easily seat 5 or 6.
Check out this master suite! We can't get enough of these white walls, that peaked ceiling, and how open this space is. Everything is finished off in beautiful creams, dark woods, and funky fabrics making this bedroom a totally shabby-chic retreat.
You got a peek of the master bathroom from the bedroom – but from here you can really admire all the detail. There's a wonderful sink right in front of the window, and we love the period features like the built-ins and the subway tiles around the bathtub.
Besides the master, there're two other bedrooms – but this vintage room is our favorite. We love the contrast of the teal bedspread with that rusty red in the wallpaper. And, despite being covered in darker colors and original woods, this space feels bright and open thanks to all those windows.
As if this cottage didn't have enough space to sit back and relax, there's a stunning garden in the back. Here you can explore the herb garden, frolic through the plants, or just sit on the patio with a glass of wine and a good book. This stunning space really brings this cottage home together.
Cottage living has never looked so good, has it? Be sure to share this stunning property with your friends on Facebook, Twitter, and Pinterest. It's packed with inspiration!