Serenity House is a beautifully crafted treehouse design that can accommodate up to 4 guests, with one bedroom, one bed, and a bathroom. During your stay, you'll have the entire tiny house design to yourself. This treehouse building is the perfect retreat for two. You can sleep as many as four people in this tiny house perched high in the trees. The cabin building boasts a scenic view of the property from the good-sized porch where you can enjoy a drink under the stars.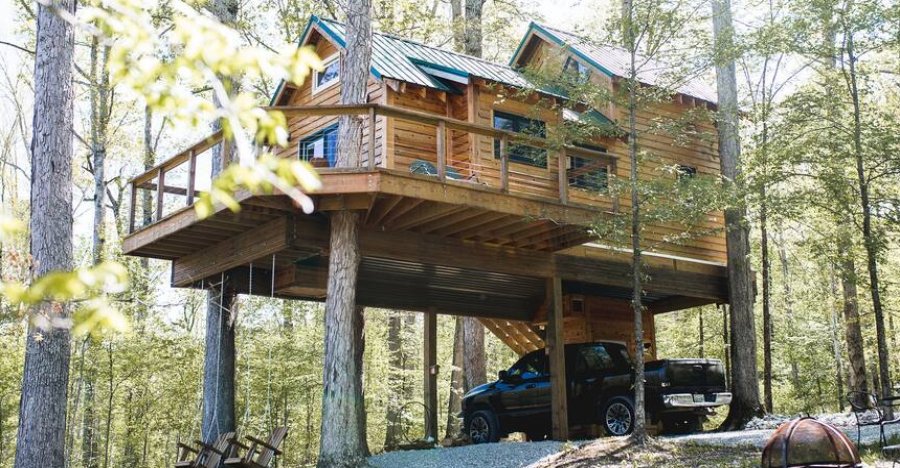 Serenity House is a 460 square feet space with a loft bedroom, kitchen, living area, bathroom, and a spacious porch. The treehouse design overlooks a small valley and during the winter months, you can see the owner's horse pastures. You will want to note that the upstairs loft is accessed with a ladder, so if you are not able to climb stairs or a ladder this vacation may not be for you. This treehouse space is located high up n the trees, at about 20 feet at eye level at the highest point, and about 80 feet above the valley floor. The treehouse has no internet or television, so it's a great place to unplug and unwind. There is also very little phone service reception. The owners recommend bringing along some books, games, journals or small hobbies you might enjoy. If the weather is supposed to be rainy when you have planned your vacation stay, you might bring along a computer with some movies downloaded on it, or one with DVD capabilities.
This treehouse vacation rental is a unique experience like no other. If you've never stayed in a treehouse before, you might be surprised if you feel a bit of movement during your stay. That is because the treehouse design is built up in the trees, and on windy days there can be a bit of movement, but nothing to be worried about. The treehouse cabin building is beautifully designed and might even inspire you for a treehouse cabin building of your own.
There are hiking trails throughout and around the property. The property has an orchard, garden, and fresh chicken eggs that are available as the season allows. There is a pond for swimming and fishing. There is also beef from the owner's cattle that is available for purchase. They also have Rock 'N Refuge cups available for sale. The treehouse does allow pets, they require that all pets are up to date on all of their fleas and tick medication and there is a $40 pet fee that can be left upon departure.
This treehouse vacation rental is located in McEwen, Tennessee, United States. The owners have three other vacation rentals available on the property as well as their home and the main cabin building is reserved for family visitors. When you stay here there is a chance that you'll run into other visitors or family while accessing the hiking trails or the pond. All guests at this location are welcome to share the pond.