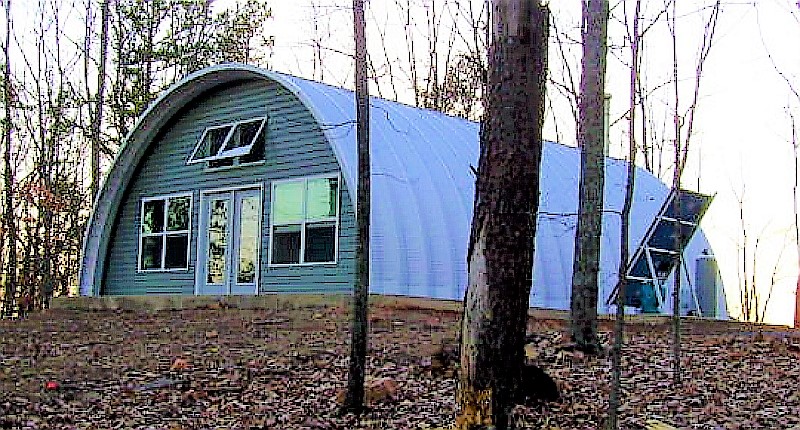 How many of you have looked into these Quonset building kit homes? First thing you might notice is that there are a couple of standard types, based mostly on the roof. These are P and S styles. According to SteelMaster,
"Quonset homes are becoming more and more popular with the DIY crowd; they can be erected quickly and provide a solid, secure, long lasting solution for most housing needs. Quonset buildings were originally developed as a sturdy answer to extreme weather conditions, and are manufactured in two styles best suited for residential applications:
"The "P" Model is the style most commonly seen in use as a garage, workshop or for Quonset Hut homes. It's straight walls and pitched roof present a more traditional look than other Quonset huts such as the typical cylindrical Q-Model style building.
"The "S" Model has a domed roof with straight sidewalls. This is a stronger design than the "P" model, and an excellent choice for use as a barn or workshop in areas with heavy wind and snow.
"Both P & S Models are ideally suited to residential homes as they have straight sides resulting in the maximum amount of livable space. Both can easily be tailored to your aesthetic requirements with custom end walls. These can be made of steel, hardy board or even finished with stucco or brick. It is also important to note that the buildings can be insulated and that a mezzanine-type second floor can be added to larger buildings over 30 feet in width. End walls can also be fitted with windows and the roof structure can easily be fitted with skylight panels for additional natural light."
One thing about this building style is that it is easy to set up, and another point is that it is inexpensive. We priced out the residential models, and didn't even pick the smallest possible size. We picked a 20X40, 10 foot high unit (they go lower and higher is size and cost), and the estimate was $8,000. So they start at less than that, even for residential ones. We also priced out a smaller one for garage purposing, and the estimate was $1,200. Of course, you do have to think about other building costs, such as transportation, laying foundation, and other expenses. Anyway, we've included photos of a variety of completed SteelMaster ones in the gallery you can check out (link below), from little plain garage-style ones to elaborate multi-floor houses.
One of the biggest companies for these Quonset style homes is SteelMaster. I recently saw a couple who had built a 40X40 home with their product, an S model, made from 22-gauge Galvalume steel, with an 18-foot peak at the center, and they spend less than $35,000 on the building, they said. And the SteelMaster metal home materials were guaranteed for 30 years (so long as the building was secured to the earth).
Here is our gallery of Quonset style cabins, homes and other structures. These photographs were taken by Elizabeth Anderson for SteelMaster Buildings. To see more about SteelMaster and other house builders we've indexed in our Home Designers and Builders Directory. You can search the company's name and look builders near your area. And to see more metal homes, click here.
Check out the gallery of photos below (all images on our site are expandable, even the featured images at the top of most articles).