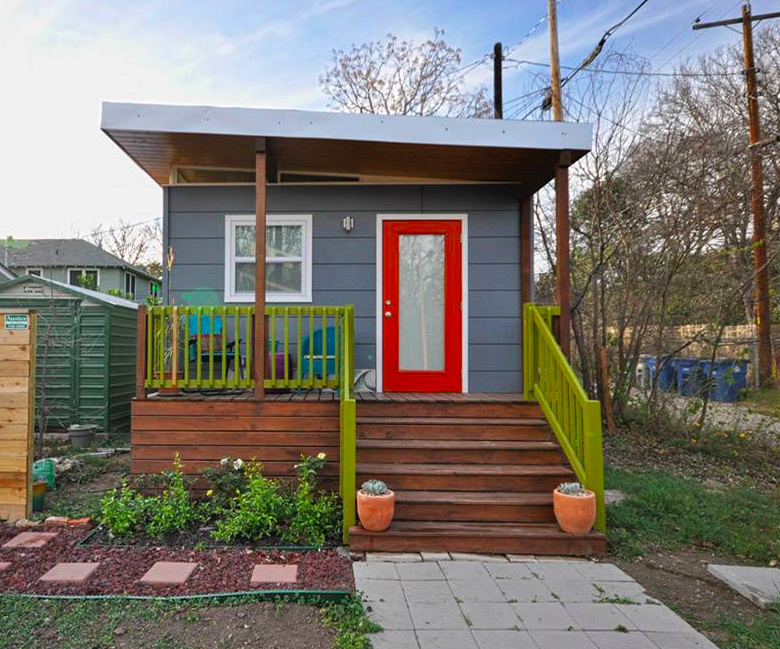 The Modern Cabin/Dwelling 14×20 has 280 square feet of space in a tiny design you will love. The Modern Cabin has a front covered porch and open space with plenty of windows to fill the tiny cabin space with natural light.
This Modern Cabin has a separate bathroom. You'll be amazed at the efficient use of space in this tiny cabin design. You can have your bedroom off to the side with a screen or a piece of furniture to separate it from the open living space, with a kitchen and living room area that feels more spacious than its 280 square foot size.
This is just one of the cabins available from Kanga Room Systems. Located in Waco, Texas they serve the Dallas and Austin areas and offer nationwide delivery. Kanga Modern Cabins are designed to be placed in the country or in locations where there will be no required inspections by a local building authority. If your cabin building site access allows, the cabin can be trucked in nearly fully assembled, which requires very little on-site time. The Kanga Modern Cabins and Dwellings are available as shell kits, as installed shells (in Texas only) and turnkey (in Texas only) cabin buildings.
For More: www.tinyhouse4.me