Here is a remarkably elegant log house that will suit any lifestyle. This log home was built by Lohss Construction, a company that is dedicated to bringing people the best quality and price when it comes to log homes and building materials. The founder of Lohss Construction is Chris Lohss, has always been a talented craftsman who enjoys working with his clients up close and personal. He is adamant on making each log home beautiful and unique to the customer built with expert quality. Each of the homes they build reflects the location it's built-in and the owners' personality. They craft the houses from the best materials using the best log building methods to create their homes. Of course, only the best of the best are hired on to build the homes at Lohss Construction, and each of the craftspeople takes pride in their amazing work. Each of the projects they do is well thought out and expertly built to ensure years of use so the customers can make memories in their stunning log home. The company has been featured in publications like Big Sky Journal Home, a book called Rustic Elegance, Rustic Fireplaces, Cabin in the Woods, Rustic Home, The Rustic Cabin, and Mountain Living.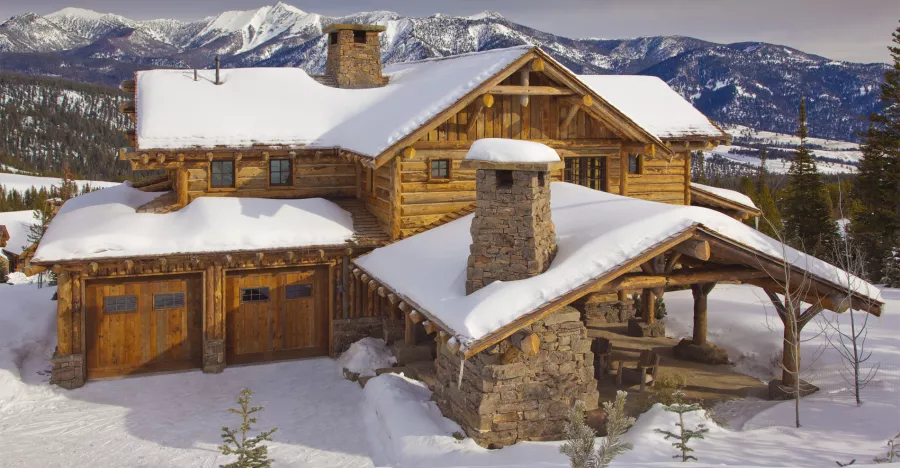 The company also even uses reclaimed lumber, which is a wonderful feature all on its own. They use antique materials paired with traditional building methods to create these incredible homes, which brings so much character and personality to them. The crew doesn't just specialize in building log homes; they are also proficient in dismantling old wooden homes, cabins and barns to reclaim all of the useable wood to add to their new projects. It's such a great way to preserve natural resources and a piece of history as well. Since wood can be used as long as it's not rotting or infested with pests, some of the pieces of wood they use could be over 100 years old. Using these older materials also helps to connect the newer home with the land it's being placed on and is an environmentally friendly choice over using brand new wood and logs.
The Spanish Peaks Log Cabin is a vision of a log home, created with reclaimed wood and attention to detail. The features in this home are endless, and spending time in it would create a true connection to nature. This stunning log home includes a garage attached to the main house and a variation of horizontal logs and vertical logs. From the exterior, the log home looks as though it's been there for years with its weathered logs and wonderful traditional craftsmanship. Even the wood framed windows are a nice touch adding some historical style to the home. The chimney is also a work of art and is also displayed beautifully in the living room where the fireplace is. There is also another fireplace in the master bedroom to stay nice and warm on those chilly Montana winters. All of the details are incredible, including the natural log staircase with the intricate wooden handrail made from tree branches and smaller logs.
Out on the patio is another fireplace to enjoy fires outdoors, and a lovely covered seating area to be able to take in the surrounding views no matter what the weather. The bathroom is a serene place with a large tub and a sectioned off toilet area. Then, the kitchen is a great mix of rustic and modern with the reclaimed wood cabinetry mixed with state of the art stainless steel appliances — what a gorgeous homemade with excellent materials and such great attention to detail.