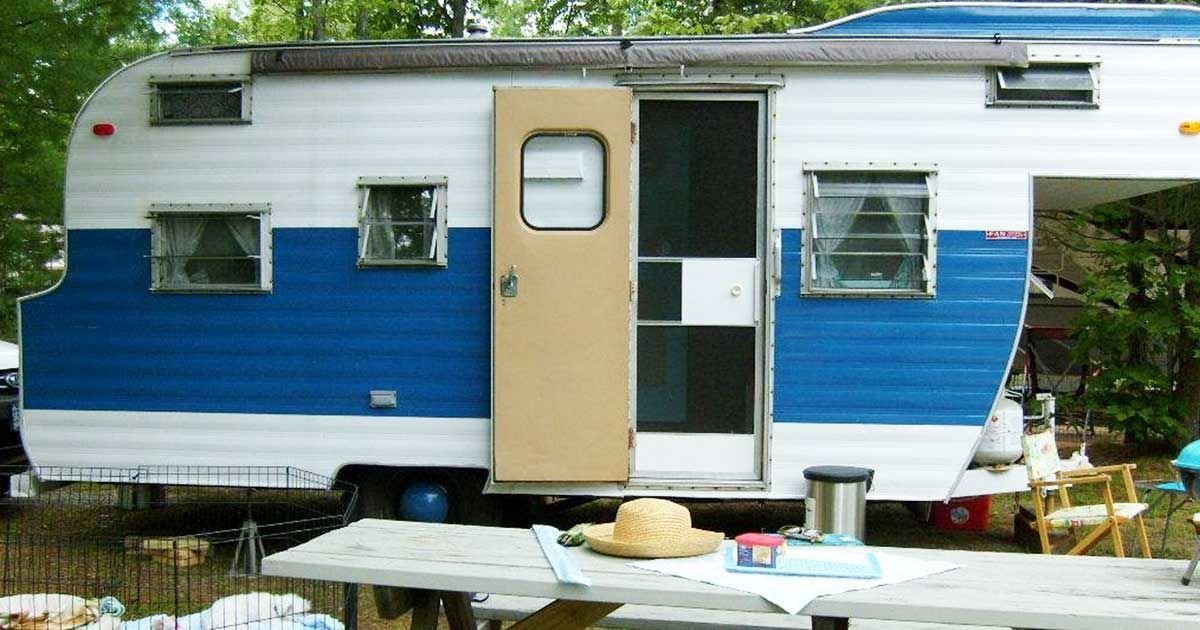 We know roughing it isn't for everyone, and many people will choose "glamping" over camping without fail. Though this vintage camper may look ordinary from the outside, the interior decor will make even the most hardcore outdoor enthusiast swoon.
According to a Facebook post published on Feb. 24, it took Kathy Bolster four months to complete the dreamy interior for her 1965 FAN vintage trailer, and it's safe to say that was time well spent. After taking a virtual tour, we're completely enamored with all the little details that make this trailer the ultimate glamping machine. From the exterior, you'd never suspect that the inside is a retro wonderland.
We cannot get over how well-coordinated everything is, nor how inviting the dreamy sleeping nook looks — complete with the vintage suitcases in the loft above.
According to a comment on her Facebook post, the three mirrors on the right side of the image below were a lucky find on clearance at TJ Maxx. There is also a handy bottle opener mounted on the side of the stove.
The three-burner cooktop allows Bolster to prepare her favorite meals, no matter how far she is from home, and she effortlessly incorporates different yet complementary patterns into the turquoise color scheme.
How cute are those spoon-printed curtains?
The dining table appears just as suited for a hearty meal as it is for afternoon tea or cocktails.
The touch of faux-paneling on the wall (which is most likely some cleverly-placed wallpaper) adds a homey touch.
Perhaps the most impressive aspect of this glamper is the chandelier. Not only is it the ultimate way to light the glamper in style, but it also draws attention to the stunning tiled ceiling.
Are you ready to take a trip down memory lane with this glam RV alternative? Don't forget to SHARE with your friends!