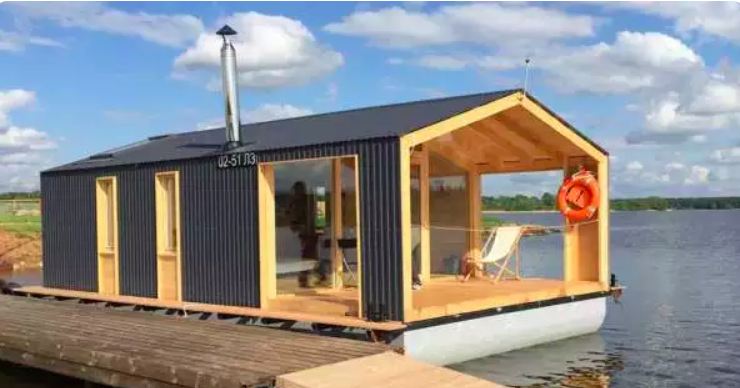 Have you always dreamed of owning a tiny cabin on a lake? Every morning waking up to the sun rising above the water, and settling every night to the reflection of the moon sounds ideal. Well, that dream might be a little more real than you think with the DublDom Houseboat, a modular floating cottage. Now you really can own a tiny cabin on a lake and it will literally be right on the lake. DublDom is a series of wood-framed, prefabricated dwellings produced just outside of Moscow and since its introduction, a number of years ago, the DublDom system has been very successful in Russia. A modular design and quick, on-site installation make it especially suited for vacation homes or other temporary housing as well as installations in remote locations.
One of the latest installations in the DublDom line of products is the tiny floating cabin called the DublDom Houseboat which consists of a 280 square foot tiny cabin which is the DublDom 26 model placed upon pontoons. Both the tiny cabin and the pontoon system are modular making it easy to produce larger versions as well. The design and floor plan for this tiny cabin is the same as its land-based counterpart with an open living area with a fully-glazed wall that faces a covered porch. The bedroom area and bathroom are both located towards the back for added privacy, and there is a sofa bed in the main living area for extra guest capacity.
The interior feels cozy and is finished with wood throughout for that cozy cabin feel while the exterior is clad in a durable metal. The DublDom Houseboat comes insulated, wired and plumbed with fixtures already installed, and the utilities can be designed both for shore connections or autonomous operation. With the success of the DublDom system in Russia, this tiny home manufacturer has had expressions of interest from around the world… and it's not hard to see why. While most houseboats are boats either designed or modified to be used primarily as a home, the DublDom Houseboat is a tiny home-come-boat. Some houseboats are not motorized because they are usually moored or kept stationary and tethered to land for utilities, although many are capable of operation under their own power.
While the DublDom is designed as a stationary floating cabin, slight modifications could allow it to be self-propelled. Houseboats are gaining popularity in Canada, especially in British Columbia, Ontario, and Quebec where there is an abundance of perfectly suited lakes and rivers. In the United States, Seattle is home to a large collection of houseboat neighbourhoods. The earliest recorded houseboats in Seattle date from 1905, and by the 1930's the number of houseboats in Seattle grew to over 2,000. California also has one of the most famous collections of boathouses that have been owned by the likes of famous musicians, film stars, authors and other notables dating from the hippie era through even today.
Tiny homes continue to gain in popularity and appear to be less conventional than standard or traditional housing options. Tiny homes come in all shapes, sizes, and materials and are really only limited by their creators and owners visions. The tiny house movement advocates living simply in smaller spaces and the DublDom Houseboat provides both of those opportunities to prospective owners. So why not 'kill two birds with one stone' and get that tiny cabin on the lake that you've always wanted?
More about this story can be found at: DublDom