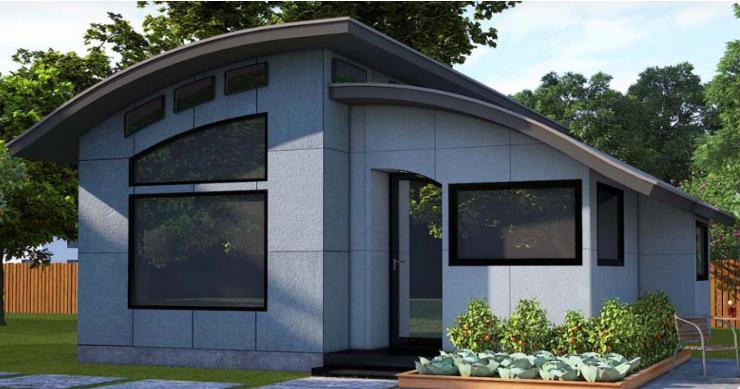 For those who think that living in a tiny house on wheels is "too tiny," there is great option for a small home design. With a bigger interest in smaller dwellings, the home building industry is teaming with new and innovative ideas for small house designs. There seems to be an even greater interest in those small houses that also come paired with smart technology that makes living easier and more efficient. To keep up with the ever-growing demand, Green Builder Media and Shelter Dynamics teamed up to create the Flex House, a modular home design concept that makes homes that are "just the right size." They designed these homes with the goal to keep them sustainable, eco-friendly and small without making people sacrifice much in the way of space and style. The CEO Sara Gutterman explains it as not asking people to give up everything, but to use only what they need. The Flex House designs come in at 760 square feet and offers a modern and stylish design with clean lines and a curved roof. The homes look very unique, and like nothing else on the market for prefab homes, so it offers people something a bit different and more contemporary than the cookie cutter style houses on the market. Each home is also fully customizable so each customer can design their small home to suit their needs and style.
Each of the small home designs is also packed full of high tech items which make the home run smoothly and make you feel as though you're living in the future. Even though the floor plan is only 760 square feet, they utilized the interior space very well and were able to fit quite a lot in it. There is a master bedroom as well as a second room which can act as an office or another bedroom. There are also a couple of living spaces where sofas, chairs and TVs could be set up. There is also a full-sized kitchen with full-sized appliances, and there's the option of turning one of the living rooms into a booth style eating space for the kitchen. There is also the bathroom in the centre of the home for easy access for everyone in the home. Also, there is a space for a stackable washer and dryer too for in-home laundry. The prefab houses will also include the all-natural flooring and some of the finishes. They add in Amazon assistant which gives the home dimmable smart LED lighting, smart plugs and smart window shades. There are even smart locks and a doorbell as well as a smart thermostat. To add to the eco-friendly and efficient high tech options, there is also a low-flow plumbing system to conserve water. Plus, a greywater system and smart irrigation so the water can be used for watering the grass and plants or flushing the toilet.
Also, there's an electric powering station to charge electric vehicles. Each home also comes with a high-efficiency low NOx gas tankless water heater and the washer and dryer laundry units. Last but not least they also include a Jinko solar system so it can produce it's own power to be off-grid. The starting price for these homes is only $150,000 which is very affordable when you look at the current housing market. They are able to be delivered in about 12 weeks, and once they are quickly set up, they are ready to be lived in and enjoyed for years to come. It would be so nice living in a home like this where you don't have to worry about much, especially your impact on the environment.