Beginning to plan your log home or cabin is an exciting step to take in the journey to getting the log home of your dreams. There are many companies out there offering plans and designs which can be purchased online and then used in your planning and designing. eLog Homes is one of the companies offering beautiful log home plans and designs, available to order online. Once you have the plans, you can then customize them to suit your needs, and you can then order a log home kit from the company. Their materials package will bring you a weather-tight exterior shell including all exterior deck systems, porch ceilings, all interior partitions, roofing, windows and glass. Plus all of the stair rails, stairs and landings. There is a Silver or Gold Material Package where the Gold Package will include a few more materials including interior wall panelling and flooring.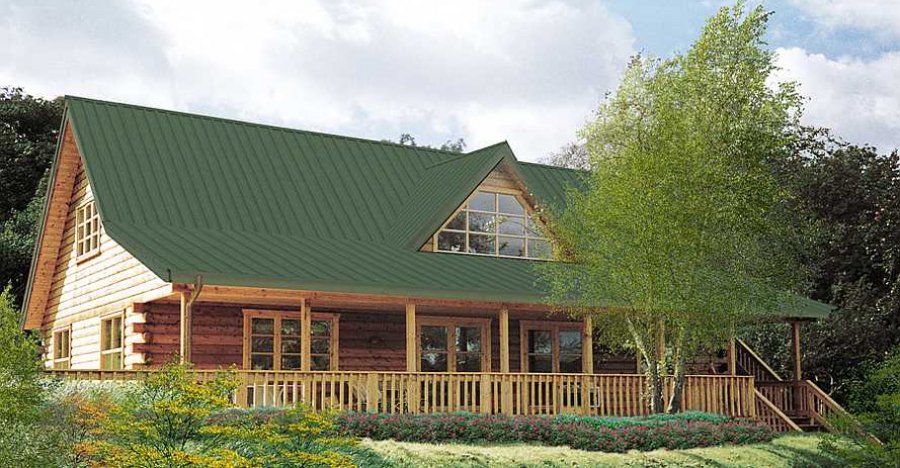 In 1991 the National Association of Home Builder's Research Center did some tests on a few different log homes to see which ones were the most insulated. eLog Homes was the home with the lowest air infiltration rate of all the homes, meaning that it will be the most energy efficient. The wood they use also is a big factor in the overall integrity of the house. They dry all of their logs slowly and naturally instead of the quick artificial drying process in a kiln. There will be reduced log checking and shrinking which means the logs will maintain their solidity. All of the logs they use are Eastern White Pine because this wood doesn't check as much as other types of wood, it is very easy to work with and has solid knots. It also has a high insulation value and stability. This type of wood is also very affordable too.
This particular log home from eLog Homes is called the Carriage Run. It's a unique 2022 square foot home with three bedrooms, and 2 and 1/2 bathrooms with a porch that meets up with the deck to create a large wrap around porch. Having an extended deck like this would be great in the summertime when you want to be outside enjoying the outdoors, giving you and your family plenty of space to spread out. From the front porch, you walk into the main entrance of the home into the living room which takes up the front portion of the home. Tucked behind the living room still connected to it is the dining area with the kitchen close by. The kitchen is tucked away in its own area which is always nice when you just want to be separated from the mess that kitchens collect. The master bedroom is on the main level as well with an en-suite bathroom with the option of adding in a Jacuzzi tub with a separate shower. The half bathroom is also on the main floor which is perfect for guests.
Upstairs, there are two other bedrooms and another full bathroom with an open recreation area. That area could be perfect for a games room or another space to set up a living room or even an office space. The overall design of the home is quite modern and could even fit into a regular neighbourhood with conventionally built homes. Just as well, it could also be perfectly suited for a property out in the country or in a forest or mountainside. This is just one of the many different log home designs from eLog Homes, so if you like this one, you'll probably enjoy having a look through some of their other plans and designs to see which ones suit your needs best.