Surrounded by towering trees and the calm water of a man-made pond, the Totems has an almost mystical quality. The roof of the log cabin is carried by massive abstract totem pole figures intended as a tribute to the spirit of the forest. Architect Henry Yorke Mann designed this small log cabin for clients who wanted a guesthouse on their heavily-wooded 10 acre property in the Coastal Mountains of British Columbia.
The totems and several other aspects of the cabin's design reference the traditional plank houses used by the Haida and other northern Pacific Coast native tribes.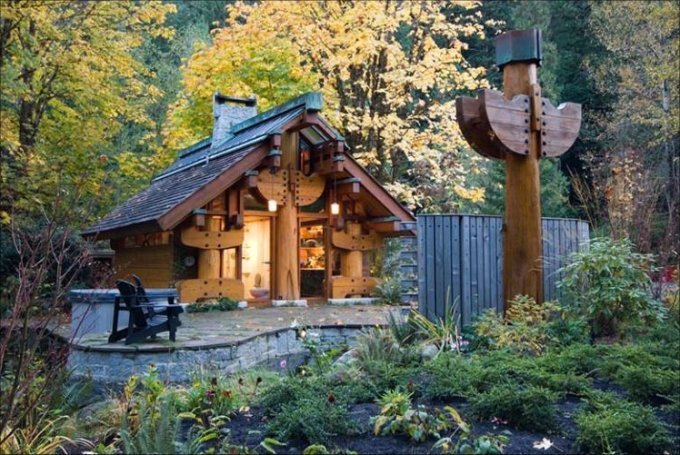 Although the walls of the cabin are built of logs, the roof consists of thick cedar planks. And like the Haida plank houses, the roof is carried by several long beams running the length of the cabin, including one along each side wall.

The side wall beams holding up the edges of the roof allowed the architect to insert continuous strips of glass between the beams and the walls. The effect is that the heavy roof structure appears to be floating over the log walls below.
The walls are constructed from 12″ by 12″ cedar timbers with dovetailed corners. The gable walls are mostly glass, with doors and windows fitted between the cedar posts of the totems.
The cabin is symmetrical with a rectangular plan and a central hearth.


The Totems has a footprint of 400 ft2 (37.2 m2). The cabin's floor plan is organized by the central granite fireplace, which separates the living and dining space in the front half from the kitchen and bathroom in the back corners. An alternating tread stair behind the fireplace goes up to a snug sleeping loft with what must be an amazing view of the night sky through skylights that run the length of the ridge.

Once the small cabin was complete, the owners loved staying there so much that they decided to live there full-time, downsizing from a 5,000 ft2 house. They describe the cabin as being "like a Fabergé jewel box–it continues to unfold and reveal surprises, if you take the time to look."
Photographs by Stuart Bish, courtesy of Henry Yorke Mann. Via Country's Best Cabins.