If you've ever taken a drive in the country, chances are you've seen some grain silos along the way. These large, cylinder-shaped structures are placed on farms to hold grains, seeds, and other food products until the farmers sell them. Sometimes the silos are just empty when they're not in use anymore then they're usually torn down to be used for scrap metal. So in the spirit of recycling and reducing waste, people have begun to use these grain silos for another purpose. While the metal could be melted down and used for another purpose, much like shipping containers, it's great to find other ways to use them. The steel used to build these containers is very strong and durable, and it's fairly affordable to purchase a used or even a new grain silo, and it turns out there are plenty of ways to recycle them too. You can use them to make a home or even an office space or maybe a rental unit on your property. And if you live out in the country, the silo will be right at home. Of course, the tiny house designs for silos make them look much cuter than just a plain silo and more like a real home though.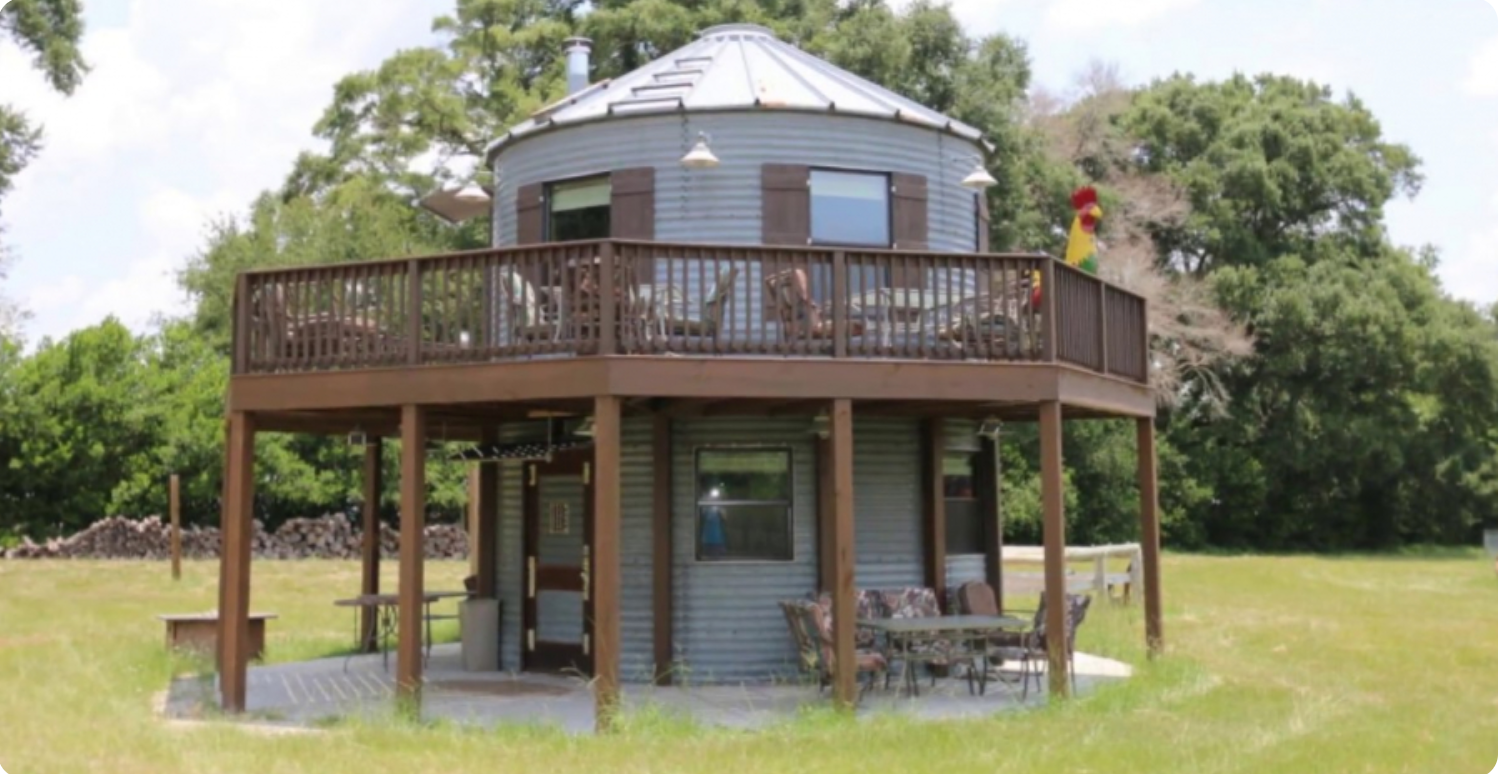 This silo house is located in Lake City, Florida and was created by an Equestrian. The home along with the property it sits on is up for sale on Tiny House Listings for only $200,000 US. So not only will the buyers get a cute tiny house, but also a ranch which has everything needed to have a functioning horse ranch. That includes the 7,000 feet of horse fence, five horse paddocks, 30 feet of riding trail all on 25 acres of land. The cottage is completely custom built, and it was also newly built in 2016. It's all ready to live in and has all of the comforts of a home. The home has two levels and on the main level is the kitchen and bathroom. There's a full kitchen on the main floor including reclaimed pallet wood cabinetry and four-inch thick concrete countertops. There are also wooden and galvanized steel accents all around, and wood for the ceilings. The bathroom includes a flushing toilet, a shower and a sink vanity with storage for towels and other items. The tiling in the shower is all river stones which bring an element of nature into the home. There's also the woodburning fireplace on the first floor that heats the entire tiny house as well which is great.
The upper level is accessed from the kitchen space by a ladder and up in the second level is a sofa that works perfectly in the space and a few chairs with curved shapes that fit perfectly in the space. It creates a nice seating area perfect for entertaining and relaxing. Then, out of another door up there is the wrap around deck where there is so much space to enjoy outside. They've added some nice table and chair sets out there, and a BBQ would also be great up there too. There's also a patio area on the main level that would be a great shaded space to enjoy if it was too hot outside thanks to shading from the deck above. The most challenging thing about the design of these silo homes is figuring out how to make the shape of the home work. We're so used to working with square and rectangle shapes in building so building a roundhouse could be a challenge for anyone. But it was definitely accomplished with this tiny silo house.