Senior citizens tend to get a bad rap. Most people assume they live in Florida, sit around knitting all day, and go to bed at dusk. But those are unfair stereotypes!
Sure, old folks may have a few more health concerns than younger adults, but they still have their wits about them — and they still know how to have a little fun.
For instance, did you know that President George H.W. Bush skydived well into his 90s, comedian George Burns puffed on cigars until his death at 100,and a saucy old granny in England recently snuck out of her nursing home to get a tattoo?
The senior shenanigans don't stop there, either. Plenty of people in their golden oldies are adding a little sparkle to their lives by being downright cool and hysterically funny.
Take the grandma in this story I heard a few years ago. What she does when she calls a hospital is not only hilarious, but it's also a whip-smart move any whippersnapper half her age would be proud to say they thought of themselves…
A sweet old lady telephoned St. Joseph's Hospital. She asked, "Is it possible to speak to someone who can tell me how a patient is doing?"
The operator said, "I can. What the name and the room number?"
The old lady said, "Norma Findlay, Room 302."
The operator replied, "Let me place you on hold while I check with her nurse."
After a few minutes the operator returned to the phone and said, "Oh, I have good news, her nurse just told me that Norma is doing very well. Her blood pressure is fine, her blood work just came back as normal, and her physician, Dr. Cohen, has scheduled her to be discharged on Tuesday."
The old lady said, "Thank you. That's wonderful! I was so worried! God bless you!"
The operator replied, "You're more than welcome. Is Norma your daughter?"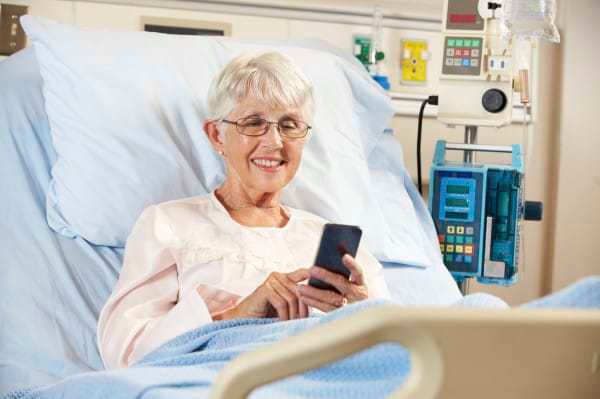 The grandmother said, "No, I'm Norma Findlay in 302. No one ever tells me sh*t."
Please SHARE if this grandma put a smile on your face.