Like to see more from 
Teardrop Trailers
It's modeled after both a teardrop trailer and a tiny Hobbit home. One Reddit user has built this creative, fun and totally useful trailer. For starters, we can't get enough of the craftsmanship and detail that's gone into this piece. Everything from the window hinges to the flower box, wooden slats, and 'grass'-covered roof resemble a real-life Hobbit hole.
Besides all that, this Hobbit hole is going to make camping all the more easy and fun. It's the perfect size to tow behind your car; it has a big roomy bed; and in the back, the hatch opens up to a fully functional kitchen. Don't just take our word for it – take the tour and see this handcrafted Hobbit hole on wheels for yourself.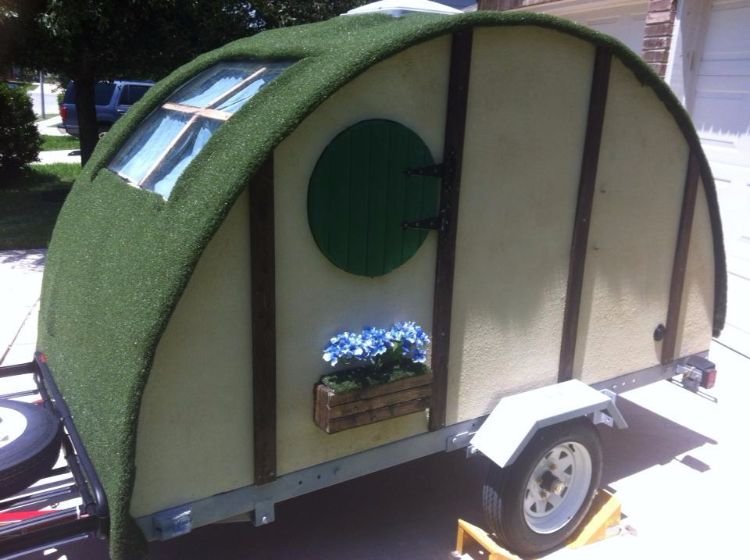 Like 
Teardrop Trailers
 for more
Take a look at this very authentic looking Hobbit hole on wheels. We love all the little details that make this little teardrop trailer great from the skylight to the round porthole windows on the sides and the stucco and wooden exterior to finish off the look.
Check out this kitchen – there's room for everything! Back here the Hobbit hole opens up to reveal a kitchenette that boasts a stovetop, water storage, a cooler, and plenty of space to store things and prep for your meals.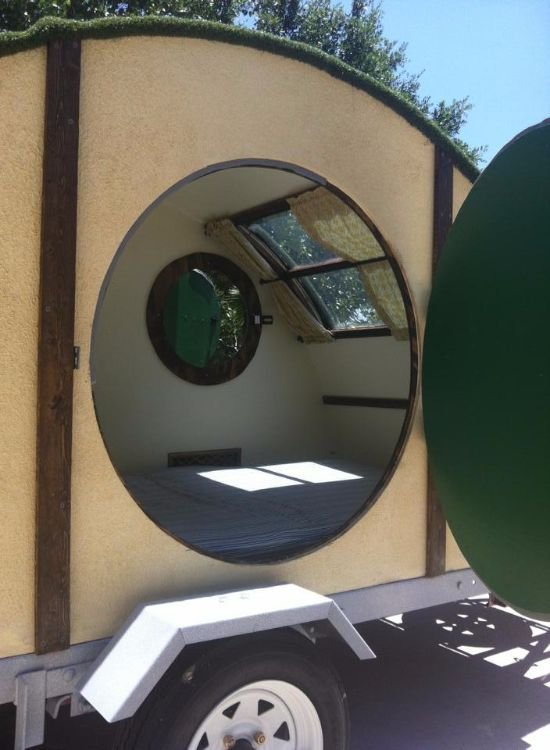 The big round door opens up to reveal the roomy sleeping space inside. Despite being a small space, the windows and big skylight above let in plenty of light and keep the Hobbit hole feeling open and airy.
Like Teardrop Trailers for more
A closer look inside reveals even more attention to detail. The window is shaped out of this beautiful dark wood, the walls have the structural beams peaking out for a rustic look, and the skylight window is covered with a double blind so you can catch some extra zzz's in the morning. How thoughtful!
Totally surprised and inspired by this Hobbit hole teardrop trailer? Be sure to share this stunning piece of craftsmanship with your friends on Facebook, Twitter and Pinterest.