Tiny House on wheels (24ft x 8ft) fully furnished and outfitted ready for Airbnb rental or full-time living. Tons of natural light, plenty of storage and functional layout perfect for a couple or solo tiny home enthusiast. 175 sq feet downstairs living space with 80 sq foot loft.
$35,500.00
For Sale
Tiny House on a Trailer
250 sq ft
0 beds
1 baths
No Land
Built 2016
House has been used as a weekend getaway for the past two years and as an Airbnb rental this summer. Just need an RV parking spot and it can pay for itself in 2-3 years. Currently only requires grey water disposal (off the grid potential). We are selling to move into a tiny home community that requires a tiny home on a foundation. Since financing is difficult for tiny homes the owners are open to payment plan options or partial owner financing with a down payment of 60%, all reasonable offers will be considered for buyers with strong credit. Professional delivery available for a negotiated rate.
A few features:
* Kitchen: Mini-Fridge, Convection Oven/Microwave, single Induction burner, full sink & storage
* Bathroom: Natures Head composting toilet, full-size shower, sink
* Seating: Bench seats (with storage), built in table with ingenious pull our chairs, stairs with full storage.
* Windows and Doors: Double pained, fully screened, double hung windows. Mini-french doors to easily bring the outside in.
* Sleeping: Sleeping loft with queen bed, shag carpet, and dual reading lights/outlets
* Heat/Cooling: Radiant heat flooring, Envi flat panel heater, window A/C unit, ceiling fan, Denim fiber and alpaca insulation, 20 gallon water heater
* Hook-ups: 50amp RV plug, RV hose, grey water only
* Design: based on the New Zeland "Lucy" model.
BONUS: trailer valet for maneuvering into tight parking spaces is included. We used the valet to parallel park in our alley.
The house was built by a school district project and then finished over the past two years. Link to building blog: https://www.mhtinyhouse.com/blog/archives/05-2016
Features Include: Storage Loft, Sleeping Loft, and Stairs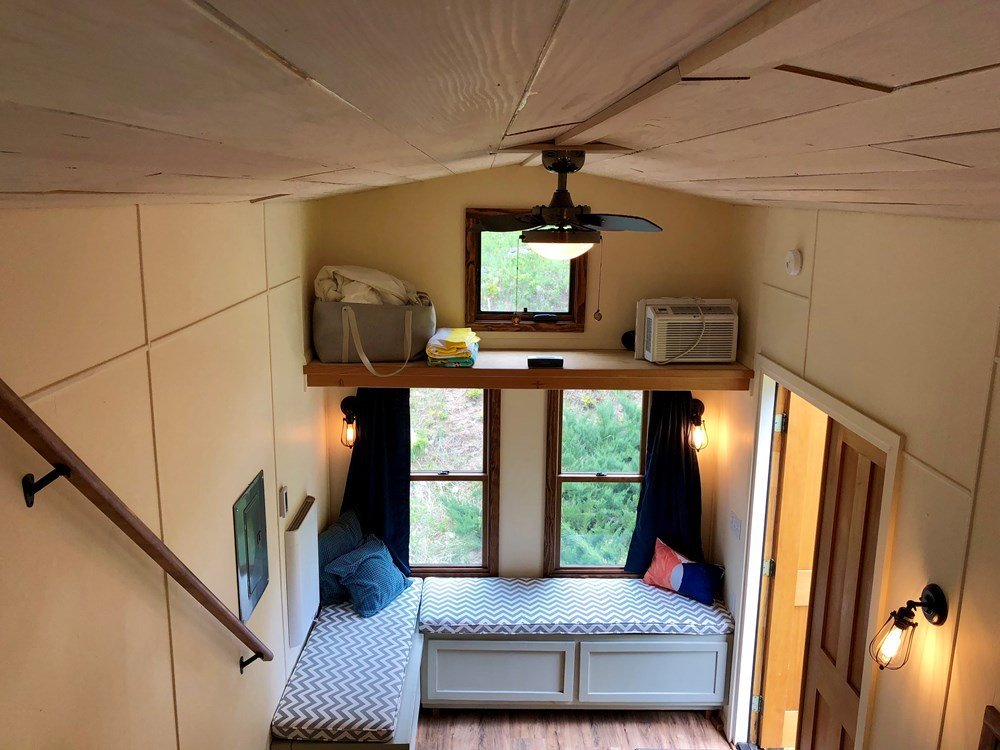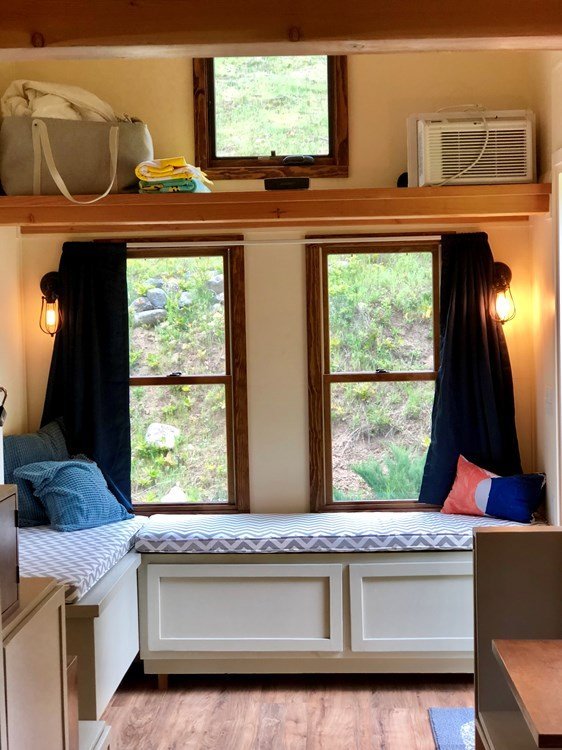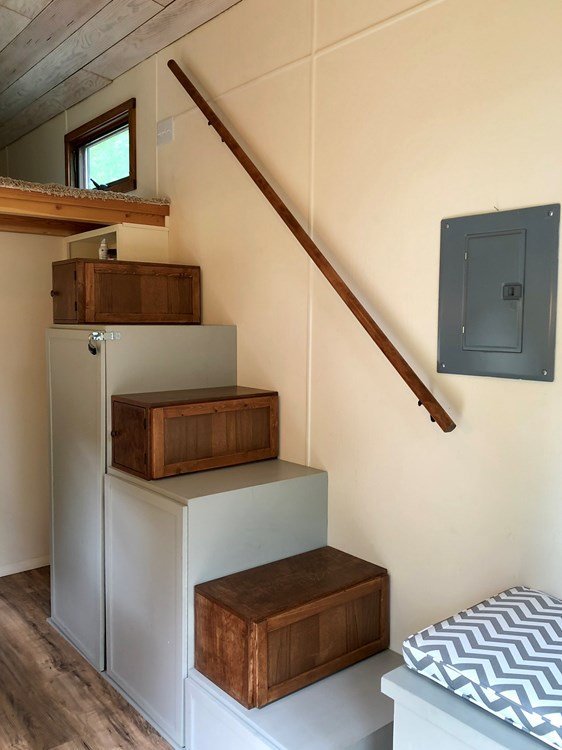 7655 ID-21, Lowman Lowman, ID 83637 View on Google Maps , Contact Seller – Click Here
Source: tinyhomebuilders