An authentic log cabin design that can accommodate up to 6 guests with 2 bedrooms, 2 beds, and one bathroom. If you love log cabin living or have always wanted to experience a vacation in a log cabin, this is the place. During your vacation, you'll have the entire log cabin to yourself. A vacation where you can watch the sunset in a rocking chair on the front porch, relax by the gas fire or stargaze as you soak in the hot tub. The cabin building is walking distance to the Shenandoah River and the Shenandoah River Outfitters Canoe Company. During your vacation, you can visit the Skyline Drive, Shenandoah National Park, and Luray Caverns which are all within a 20-minute drive. The log cabin vacation rental is located in Luray, Virginia, United States.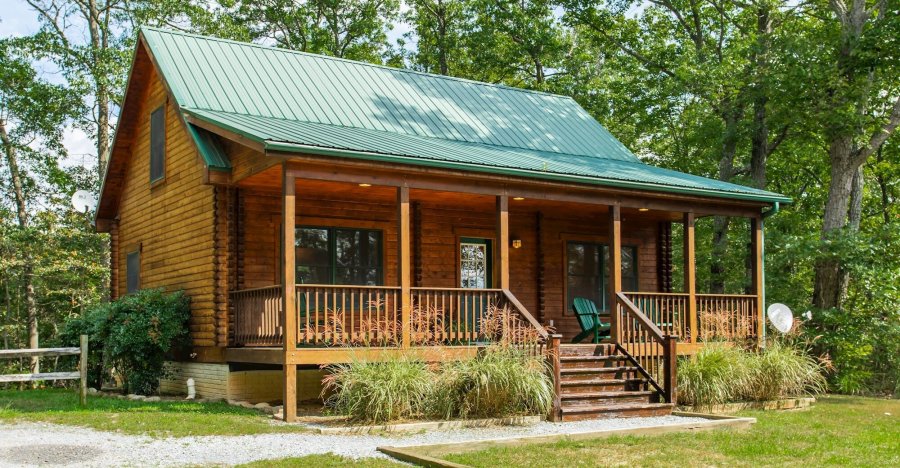 The rustic log house construction melds with modern comfort and log cabin design in this vacation getaway. You can spend a weekend, week, or longer in a place where you can enjoy endless indoor and outdoor amenities. The log cabin vacation rental has two bedrooms, which are both furnished with queen-sized beds and luxury linens. Children and extra guests can find a cozy place to dream in the upstairs loft. You can enjoy meals made in the fully stocked kitchen, which is next to the dining room. The cabin building has a living room area that features hardwood floors, a cozy gas fireplace, and vaulted ceilings. You can soak up the beauty of the Shenandoah forest and relax all the while by being surrounded by nature. The mountains are calling you and this is a place you'll want to visit. The entire cabin building is available during your vacation stay.
The log cabin vacation rental is located in a secluded mountain neighborhood that is within walking distance to the Shenandoah River, a private lake, hiking trails, and the Shenandoah Mountain River Outfitters. The log cabin building is in the heart of Shenandoah, so there isn't public transportation. It should be noted that you won't need to have a four-wheel-drive vehicle or an SUV to reach the cabin building.
From the moment you set eyes on this cozy cabin building, you'll fall in love, with its covered front porch with plenty of seating just how you imagine a log cabin to be. Once inside you'll be amazed at all the wood from the floors to the ceiling and the walls too. This log cabin vacation rental is beautifully finished with comfy furnishings and modern features. There is something special about staying in a log cabin surrounded by nature. Maybe it reminds you of your childhood vacations or all that fresh air reminds you just how important vacations away from the city can be. Whatever it is, a log cabin vacation is a perfect way to press the reset button and go back to your routine feeling refreshed and full of energy. You'll enjoy the fresh air and beauty of this amazing location, and you will be sure to make treasured memories with family and friends.